A Global Japanese Company with 120+ Years of History
Established in 1897, Sumitomo Electric Industries Ltd is a major Japanese producer of optical fibres/cables, fusion splicers, materials & equipment for the semiconductor and opto-electronic industries; supplying telecommunications, power transmission, information technology and automotive cable markets worldwide.
With consolidated net sales exceeding ¥3,367B (approx. €24.5B at €1 = ¥137) in 2021, it is a Fortune Global 500 company and one of the world's leading forces in the research and development of high-technology products and systems.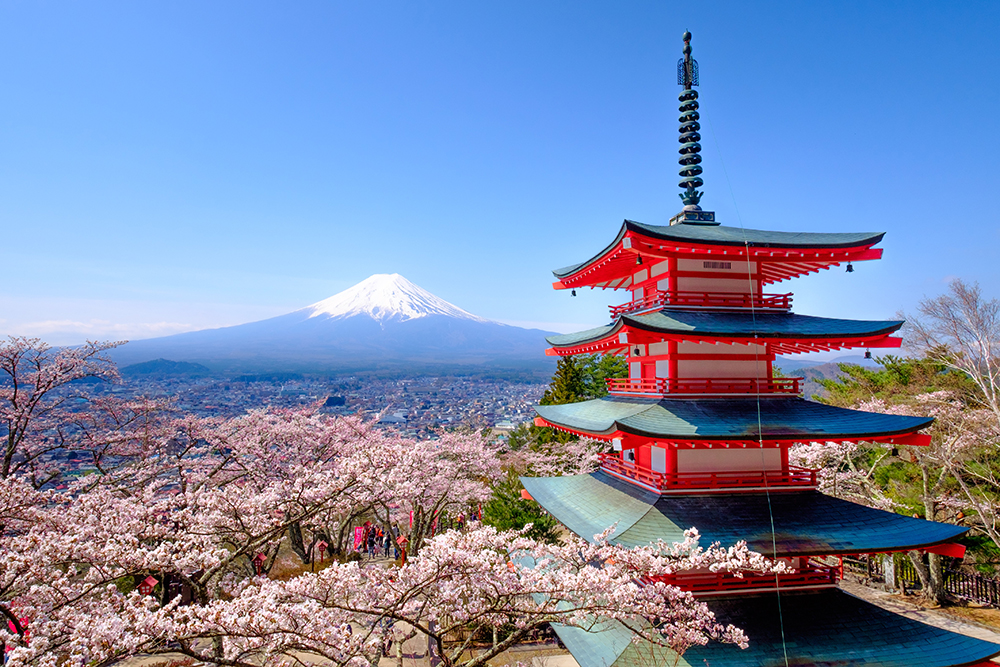 Business Segments
Widely recognised as one of the world's leading forces in the research and development of high-technology products and systems, Sumitomo Electric continuously strives to develop technology in the following five business segments, with a mission to enrich society:
Automotive (1 out of 4 vehicles produced in the world today uses Sumitomo Electric's wiring harnesses).
Info-communications
Electronics
Environment and Energy
Industrial Materials
The diverse products manufactured by the Sumitomo Electric Group are absolutely essential to society today. Used mainly behind the scenes, they have enabled Sumitomo Electric to become a Fortune Global 500 company, employing more than 280,000 employees, and overseeing 400+ subsidiaries/affiliated companies worldwide.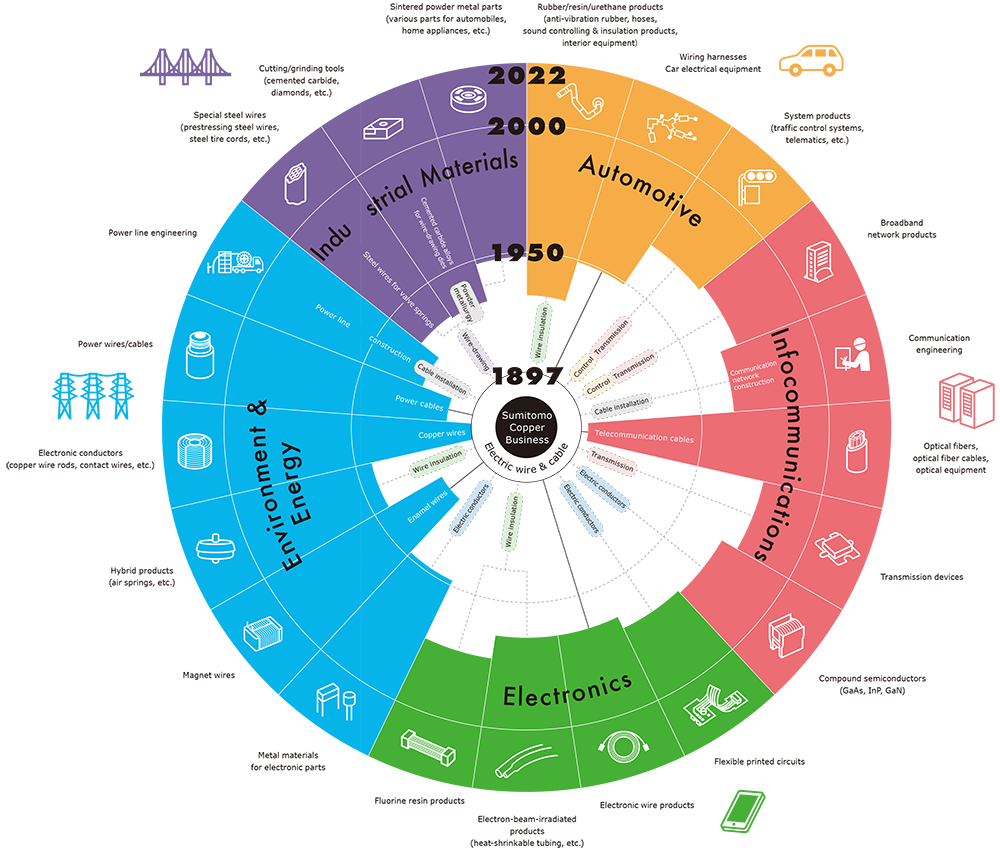 Sumitomo Electric Europe Ltd
Sumitomo Electric Europe Ltd is a wholly-owned subsidiary of Sumitomo Electric Industries and was established in 1972.
We provide sales, as well as support for selected products manufactured by our parent company, for the European, Middle Eastern and African markets.
We are a leading and respected provider of the following products and services:
• Optical Fibres/Cables • Fusion Splicers & Accessories • Fusion Splicer Service & Repairs • Optical Fibre Connectors • Fibre Management & Closures • Celmet™ Metal Foam • EV Connectors • Poreflon™ Water Treatment Filter • Passive & Active Optical Components • Electron/Microwave Devices
Our advanced technologies and solutions continue to meet the demand of growing and diverse markets in the areas of Telecoms, Data Centre, Space & Defence, Environment & Energy.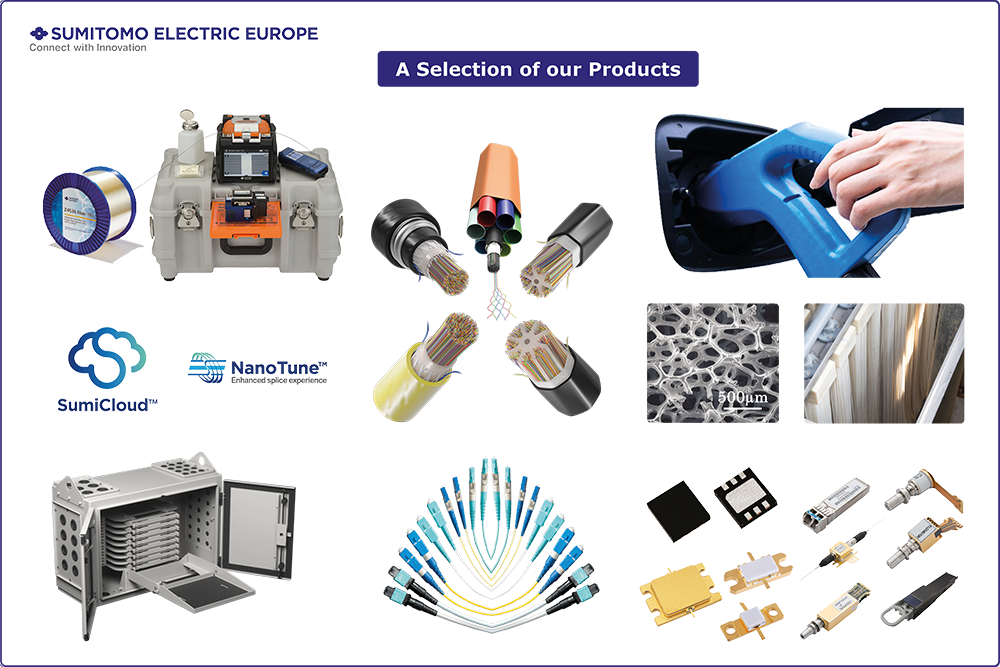 Our Corporate Philosophy
Being part of the Sumitomo Electric family, we fully adhere to its principles and values, whereby we strive to be a company worthy of society's trust, by conducting our business activities in an honest manner, and placing high importance on integrity.
Moreover, we put our customers at the heart of everything we do: we listen to them, acknowledge what they tell us and deliver solutions tailored to their needs.
A commitment to supporting our customers as well as our teams has helped Sumitomo Electric Europe to grow from humble beginnings to a multi-million pound company, serving a variety of customers in more than 50 countries.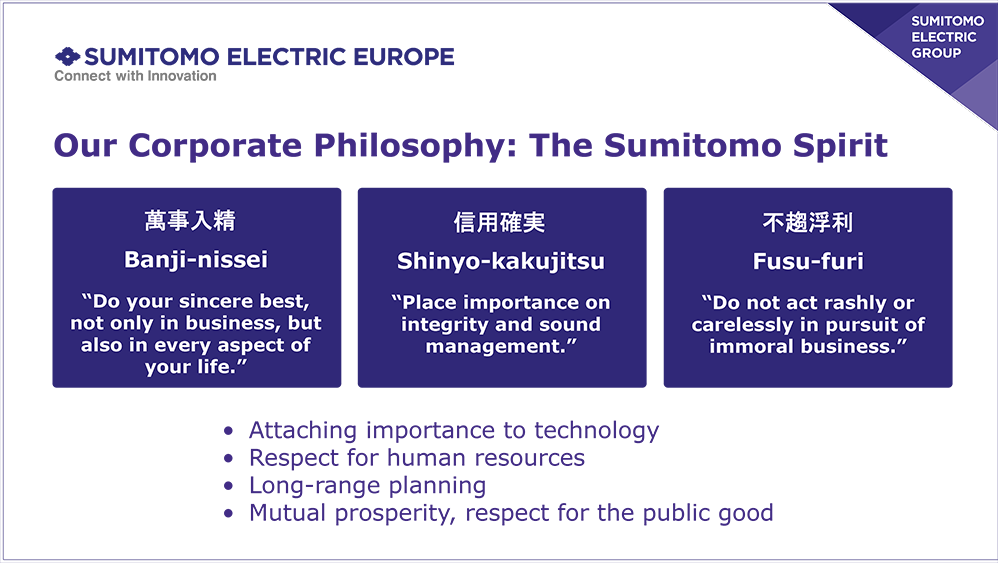 Who are Sumitomo Electric?
Please view this video to find out more about our company.